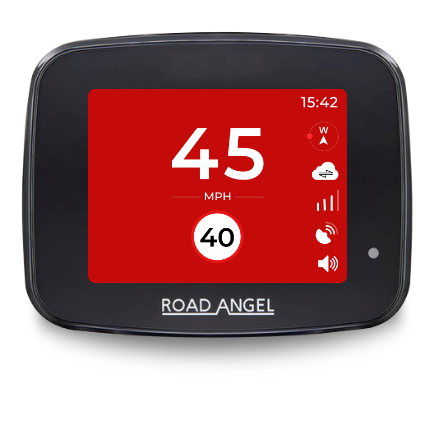 Support for Road Angel Pure One
Instruction Manuals and Downloads
This must be done via the Road Angel App – and the Pure One must be Registered/Onboarded. You can Change Some settings using the top 2 buttons.
The main thing is connectivity, it has
been upgraded to our brand-new Cloud connectivity. This means you don't have to pair up the Pure One with a wi-fi hotspot! It also is a Hardwire or plug-in-only solution so it can never have a failed battery. There is also no longer wireless charging within the dash or windscreen mount.
At this time, you can only buy a Pure One WSM, 12v – USB Adapter, 3-Pin UK Plug, Pure One Micro Cable
The device may ask you to do this, please IGNORE this as the device automatically updates this information in real-time. This will be removed in a new firmware update in April.
We have switched to using a supercapacitor with the Pure One as these are far more reliable and much less temperamental than a lithium-ion battery.
There are various ways you can do this, if purchased through the App – it will be added automatically. If purchased through the website, you must reply to the email with your serial
number or call us to activate it.
And if you purchased over the phone and haven't given your serial number, you must call to activate the subscription. –
please have your serial number handy! 
We have a brand-new app called "Road Angel" for the Pure One & Pure Touch – you can purchase the Subscription directly as part of your onboarding/set-up or Purchase this online at www.roadangelgroup.com.
You can also buy directly over the phone at 0330 320 3030.
The Pure One unit is looking for a GSM network signal, to do this, ensure it is in clear view of the sky and in a high signal area. You may need to change location if you are in a network signal black spot.
This means you have incorrectly entered your wi-fi details, or the network you are trying to connect to is on 5GHz- you must only use a 2.4GHz wi-fi network with Pure One. Please also ensure you are within 2 Metres of the Wi-Fi router.
Open the Hub Manager
for your internet provider's router
Click on Settings
Enter the admin
password.
Click on the
"Advanced Settings" tab, then click Continue to Advance Settings.
Click on the
"Wireless" tab.
To manually select
the wireless channel for the "2.4 GHz" band:
The Pure One does
not have wireless charging.
You need to be mindful if you have more than one device and carefully chose which device, you'd like to update the setting on.

You can do this within the new "Road Angel" app. The settings you decide to change will automatically update on the device in real time
When a new firmware version is available, bring your device within 2 metres of your Wi-Fi route, power it on and hold down the "speaker/right button" to turn on wi-fi. remember it will only connect
to the wi-fi if you have it saved in the Road Angel App!
Sometimes the device will work fine with some heated windscreens. If you have a high-end vehicle, you may have more
than a heated windscreen, sometimes these can cause interference for GPS-based devices like ours.  There is usually a dead spot in the windscreen shown int the vehicle manual, if you move the location of the device the signal will be improved and more consistent.
Yes, this is built in – the red ring
at the rear gives a 360 cover at the back of the unit. This is always on and uncontrollable.

You must bear in mind; windscreens are designed to block signals such as Laser/Radar but can still give a successful speed reading. Also 9/10 they will be pointed towards a license plate.